AMS is first in class because of our long history of durability and performance with industry leading engineering. We are extremely excited to introduce the newest product in the AMS engineering and performance tradition, the AMS Performance VW MKVII Golf R Downpipe! Our downpipe upgrade is the perfect piece to power up the performance of your high-output third generation EA888 2.0T motor!
Unmatched Construction
The AMS Engineering team utilized Solidworks© (3D software) to blueprint the inlet and outlets with smooth features and geometry to optimize exhaust flow. They then 3D printed the down pipe to ensure an OEM level of fitment before casting the very first article! The AMS VW MKVII Golf R Downpipe upgrade, unlike some of the competition, also comes complete with a laser cut form fitted heat shield to protect critical components that sit close to the downpipe. This includes the ABS module and it's plastic heat shielding. The AMS Golf R downpipes feature 4mm thick cast stainless steel upper section that retains as much heat as possible keeping it out of the engine bay. By casting these downpipes in robust 304 stainless steel we were not limited by the design constraints of hand fabricated construction.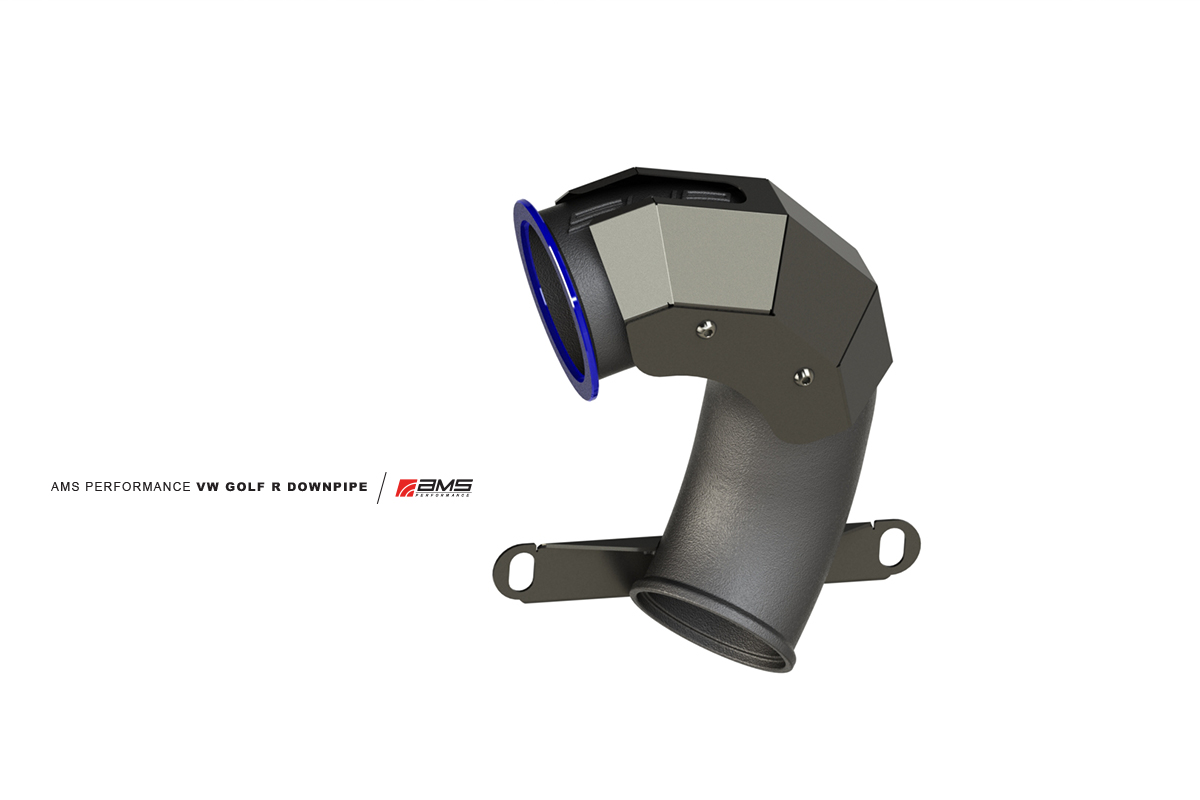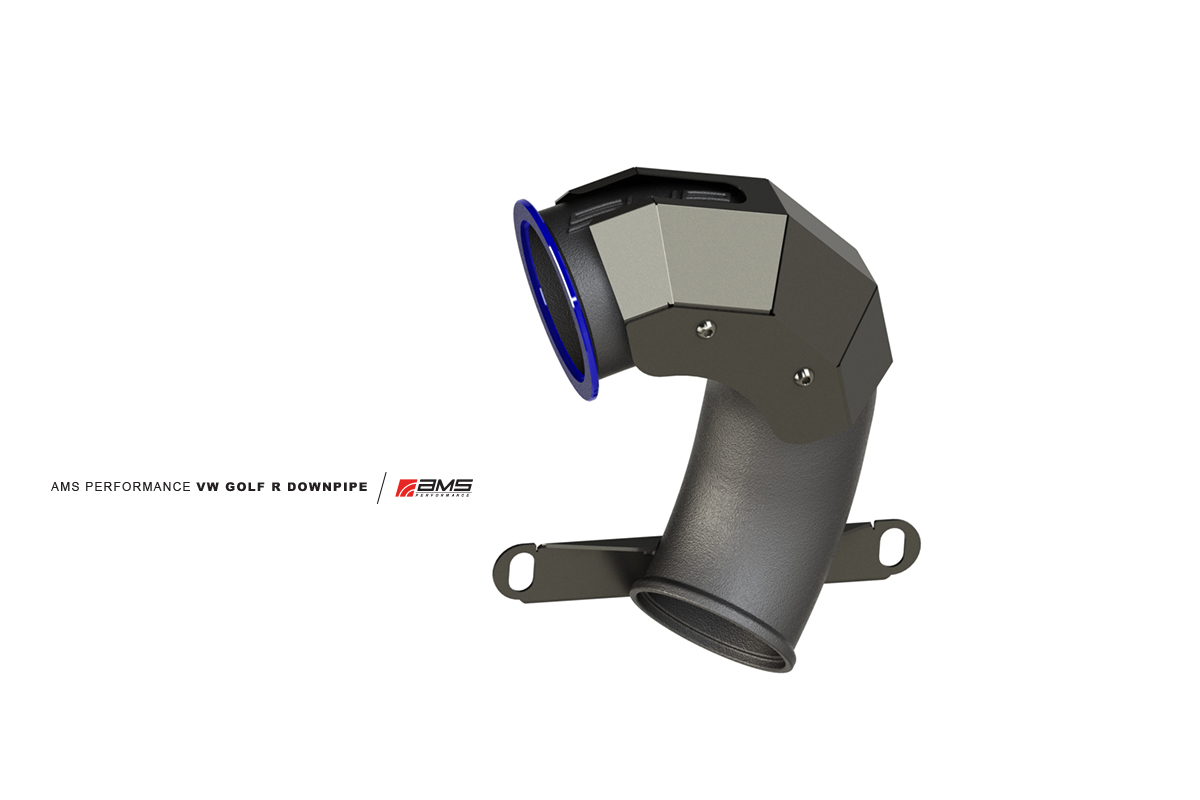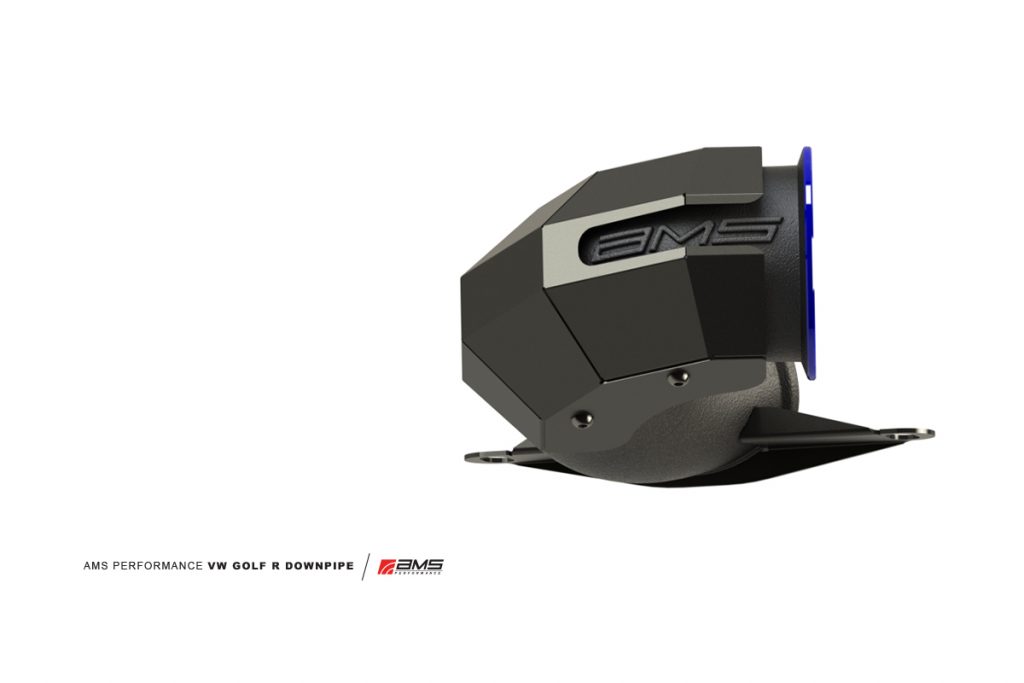 The Pinnacle of Performance
The AMS MK7 Golf R Downpipe features an extremely wide mouth that matches the exact shape and size of the turbine outlet. This increases overall turbine efficiency and performance due to a larger pressure ratio between exhaust manifold and downpipe. The long gradual transition within the downpipe section allows exhaust gasses to maintain velocity without a buildup of back pressure inside of the system. The AMS system includes a fully widened 3″ upper downpipe, midpipe, and subtle transition pipe to adapt to your factory exhaust components.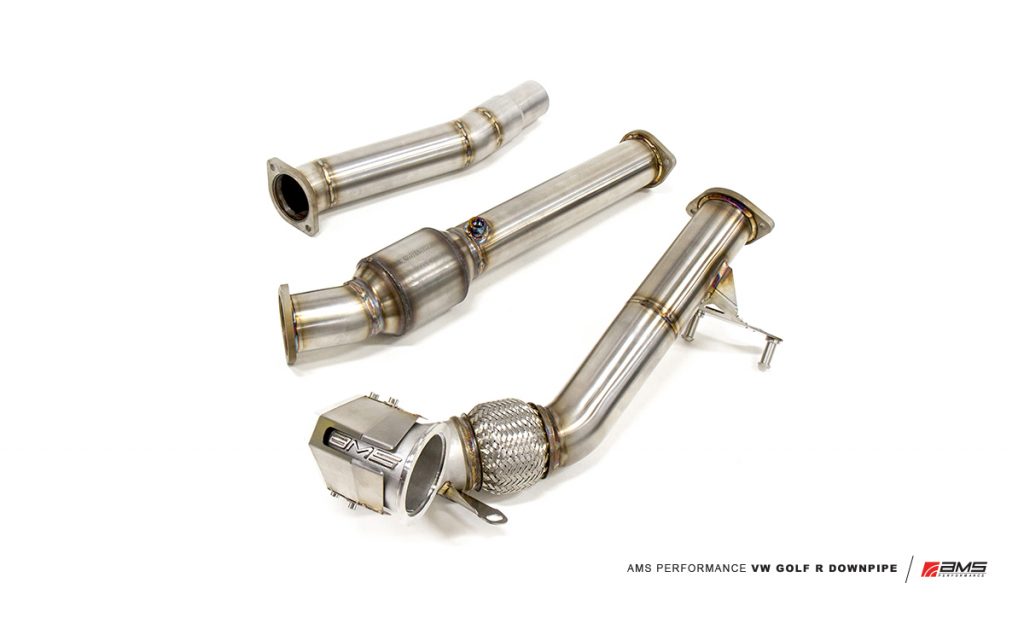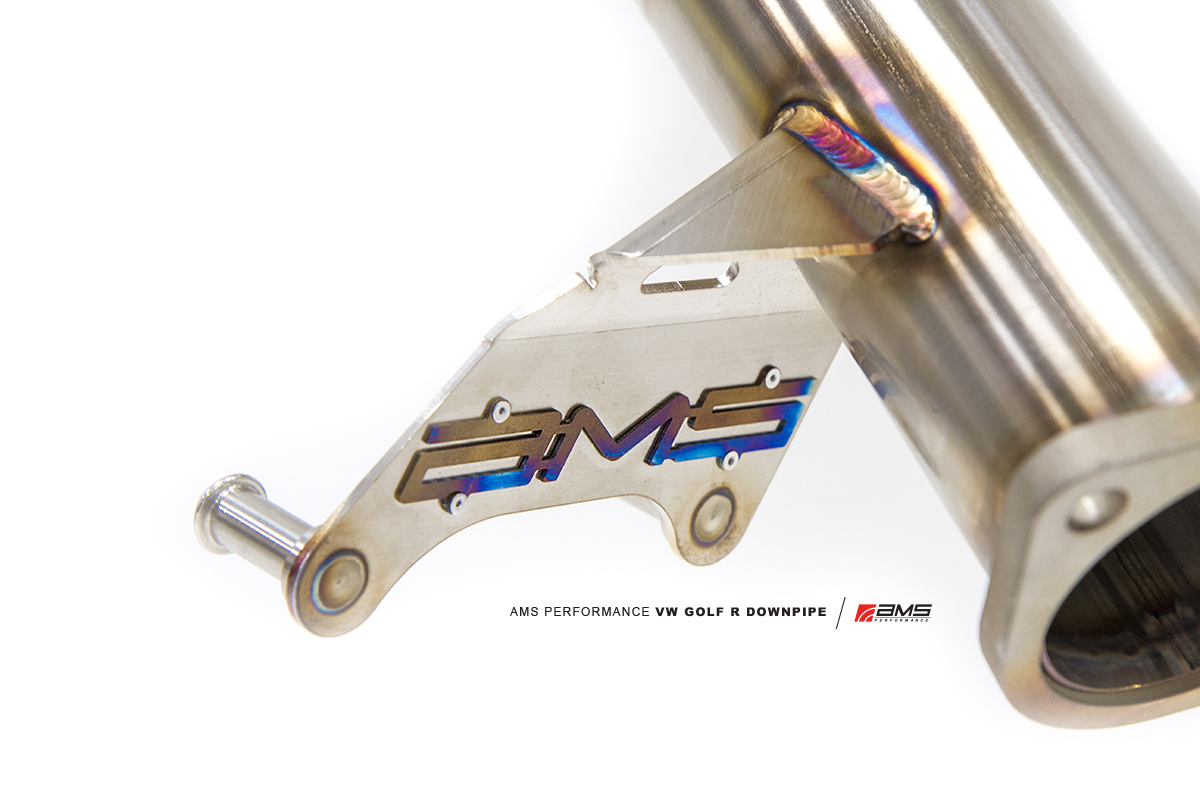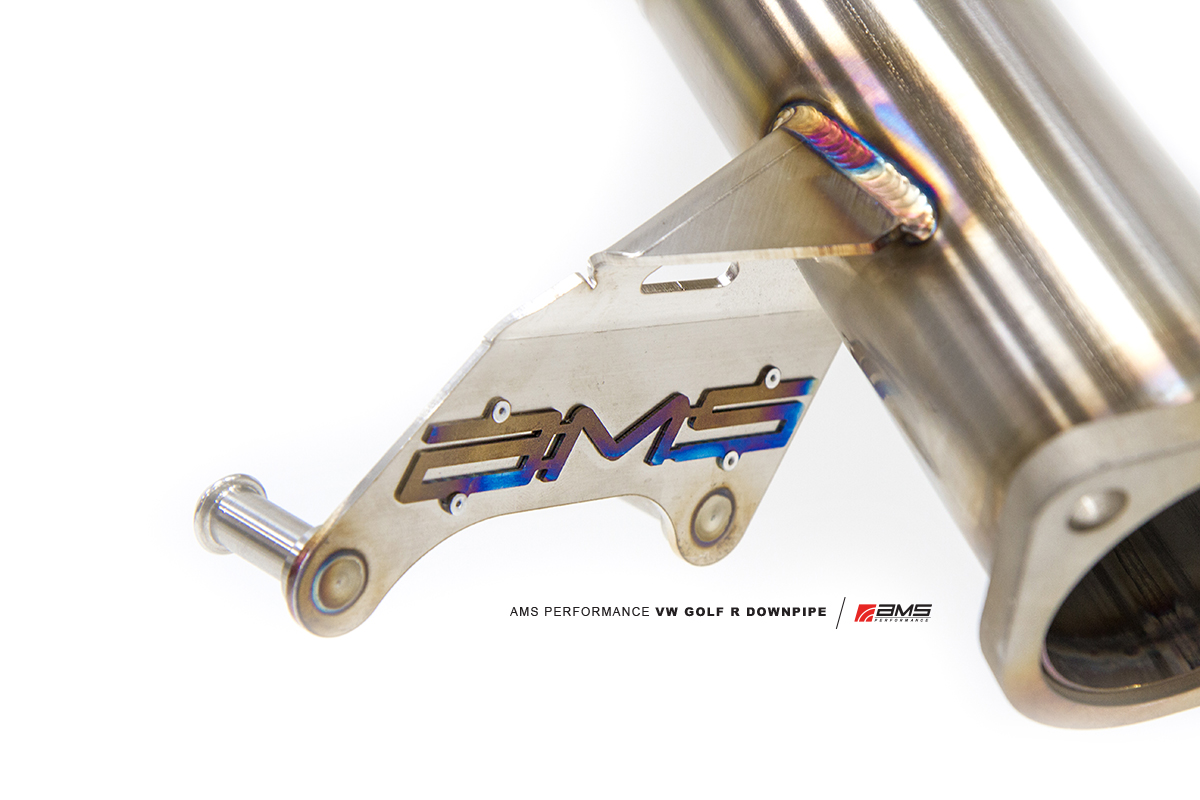 An Unmistakable Golf R Exhaust Note
The AMS Performance VW MKVII Golf R Downpipe upgrade offers a more pronounced, throaty exhaust note under wide open throttle yet are quite subtle at idle. Our AMS Engineering Team created a spectrogram that helped them identify and prevent harmonic issues in the exhaust that create drone. This type of engineering and testing allows us to build performance parts that stand head and shoulders above the competition! It's a perfectly balanced sound for your ultimate, all around, hot hatch!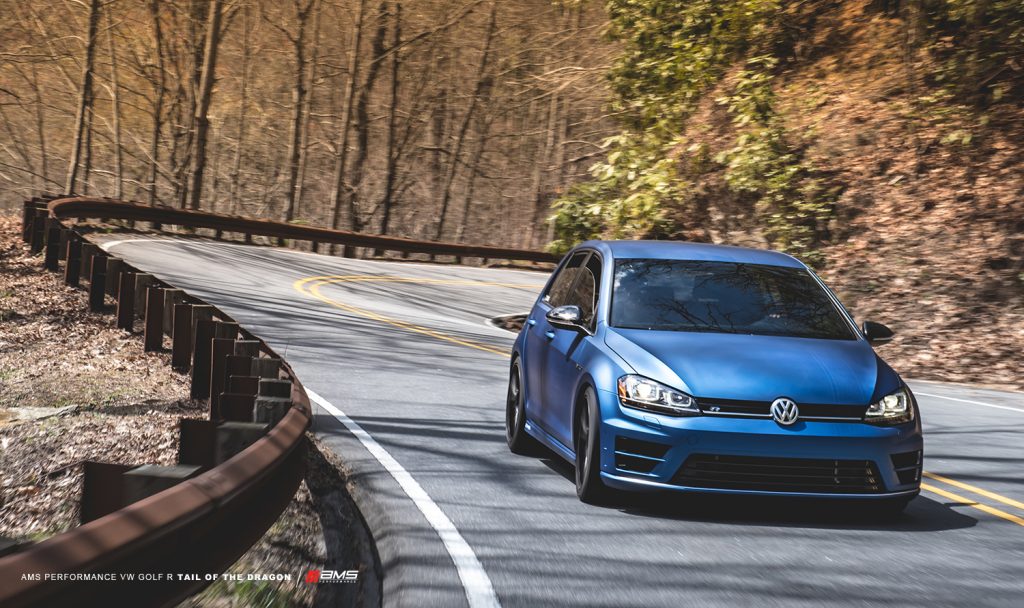 The Difference Is In The Details
Another unique benefit is our motorsports grade catalytic converter. These GESI brand 300 cell count Ultra High Output (UHO) units provide virtually no disruption in flow providing emissions control with no notable loss in horsepower. For durability these converters feature a staked in design to hold the catalyst cores firmly in place. Many competitors offer a low quality catalytic converter option to keep the cost low and their profits high. These units often fail due to poor construction and inferior materials. When you choose an AMS Performance VW MK7 Golf R Downpipe, you will remain worry-free for years to come.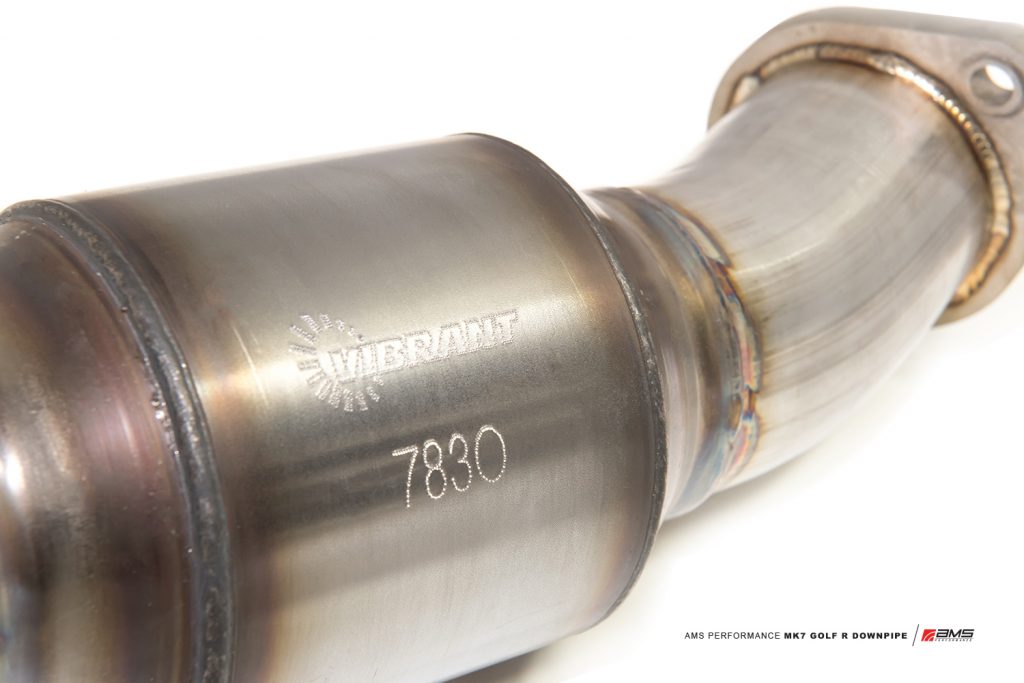 Be the VW MKVII Golf R driver to beat! Order the AMS Performance Golf R downpipe today! 

Exclusive Benefits
---
Upper Section is Cast in Robust 304 Stainless Steel
Hand Crafted TIG Welded Construction
Solidworks© Designed for Ultimate Exhaust Performance
Drastically Increased Exhaust Gas Flow
AMS Logo Lets Your Competition Know You Mean Business!
Exclusive Limited Run of 100 Titanium Logos on the Lower Bracket
Direct Bolt-on Installation, Requires No Cutting or Drilling
Can Be Used on Stock or Modified Vehicles
Motorsport Quality Catalytic Converter
Includes
---
3″ Upper Downpipe & Midpipe with Subtle Transition
Pre-Installed Laser Cut Heat Shield
Comprehensive Installation Instructions
Applications
---
2015+ VW MKVII Golf R
2015+ VW MKVII GTI
2014+ Audi A3/S3